A Small Business Owner's Guide to Federal Employment Laws


Category: Employment Discrimination

More Info: Employment Litigation
9 Types of Federal Employment Laws Small Businesses Need to Know
You want to treat your employees fairly and provide a healthy work environment for all. But in the real world, things sometimes get messy. You have an employee who needs time off, but he's the only person who can do his job. Someone is upset about being passed over for a promotion. Another employee is allergic to a coworker's perfume. And someone is "dishing the company tea" on social media.
Now what?
In human resources (HR) training, every ethical challenge has a tidy answer. In practice, it's often quite difficult to find solutions that everyone agrees are fair and right.
Federal employment laws are nice, tidy guide rails for your business. While they don't resolve every HR dilemma, they give you a framework for handling many of the complexities involved in employing people.
This article covers nine types of federal labor laws you need to know and when they apply to small businesses. Most of the laws contain provisions that:
Prohibit you from punishing employees for exercising their rights
Require you to keep certain records for specific periods, sometimes in secure files
Require you to post the laws prominently in your workplace
Many state laws provide overlapping protections to employees. Where more than one law applies to your workplace, you must generally comply with the strictest standard. For example, if your city has a higher minimum wage than the federal one, you must pay the higher city wage to employees in that location.
Here's a breakdown of the key U.S. labor laws to follow as you expand your small business.
1. Wage and hour laws
Federal wage and hour protections are encoded in the Fair Labor Standards Act (FLSA), which is enforced by the U.S. Department of Labor's (DOL's) Wage and Hour Division. Canadian employees are covered by a similar law called the Employment Standards Act.
The FLSA establishes a federal minimum wage of $7.25 per hour, or $2.13 per hour for tipped employees. It also requires nonexempt employees to receive overtime at one-and-a-half times the base pay rate for all hours worked beyond 40 in a workweek.
Under the law, you can't get out of paying overtime by declaring an hourly employee exempt. Consult the DOL's fact sheet on exempt employees for details. The FLSA does not have special rules for part-time vs. full-time employees. It protects all employees equally.
While the FLSA doesn't have a specific deadline for paying employees, the DOL has held that you must pay employees all wages owed, including overtime, by the next regular payday. If pay is delayed, you're going to need a very compelling reason.
The FLSA also prohibits misclassifying common law employees as independent contractors. On Jan. 6, 2021, the DOL announced updated rules for determining a worker's status under the FLSA. Be sure to read the new rules when determining this.
The FLSA also sets rules for employing young workers, including detailed limitations on hours for children younger than 16.
Finally, the FLSA requires employers to keep accurate pay and hour records. HR software such as Zenefits can perform much of this work for you automatically.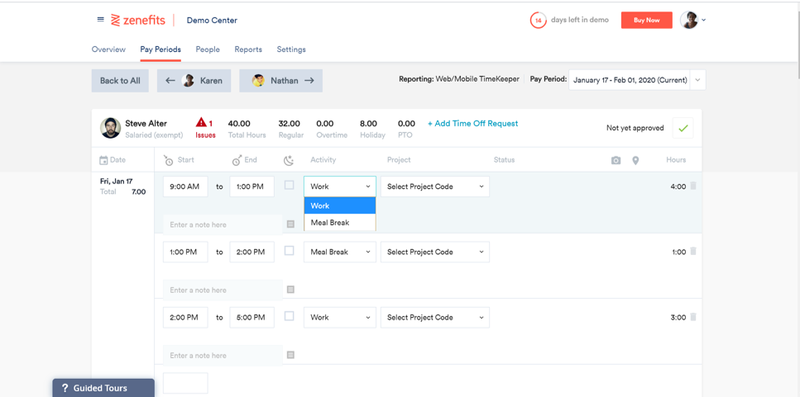 HR software makes accurate recordkeeping much easier. Image source: Author
2. Employment eligibility laws
The Immigration and Nationality Act (INA) applies to all employers and requires you to confirm that the people you hire are legally eligible to work in the U.S.
It's up to you to verify eligibility by collecting acceptable identification and filling out an Employment Eligibility Verification Form (I-9). Under the INA, you must keep I-9s on file for at least three years or one year after employment ends, whichever is longer.
3. Equal pay laws
The Equal Pay Act (EPA) applies to all employers. It requires you to provide equal pay to women and men for equivalent work. The work doesn't have to be identical, merely "substantially equal." If you discover unequal pay, you can't cut anyone's pay to correct the disparity. You have to give the lesser-paid employee a raise.
4. Equal employment opportunity (EEO) laws
EEO laws prohibit you from showing bias in any aspect of employment, including hiring, firing, pay, job duties, promotions, training, benefits, and hours. A host of EEO laws protects employees with specific characteristics, such as age and race. In addition to prohibiting discrimination, the laws prohibit harassment based on a protected characteristic and retaliation against employees who file discrimination complaints.
That's why you can't simply fire someone for any reason, despite everything you may have heard about at-will employment. The reason has to be legal.
Title VII of the Civil Rights Act (Title VII) applies to your company once you reach 15 employees. Title VII prohibits employment discrimination based on race, color, religion, sex, or national origin.
The Genetic Information Nondiscrimination Act (GINA) further protects employees from discrimination based on their genetic information. For example, you can't require employees to undergo genetic testing before they enroll in a health care plan. GINA records must be stored securely.
The Pregnancy Discrimination Act (PDA) prohibits discrimination against women based on pregnancy. This includes actions like cutting back hours or refusing to hire someone because she is pregnant.
The Americans With Disabilities Act (ADA) requires you to make reasonable accommodations to job applicants and employees with disabilities. It also prohibits you from asking about a disability during job interviews, discriminating against an employee who requests an accommodation, or discriminating more generally against applicants and employees based on perceived disabilities.
ADA records must also be secured at all times. HR software can help you securely store and access all of these critical documents without cumbersome paper files.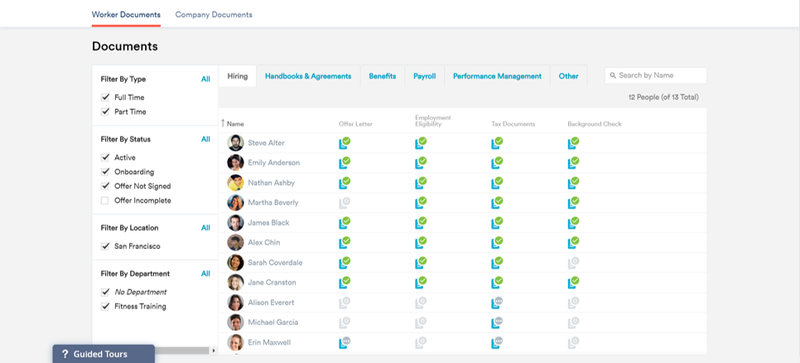 Zenefits has a sophisticated document repository for each employee. Image source: Author
The Age Discrimination in Employment Act (ADEA) applies once you reach 20 employees. It prohibits discrimination against employees aged 40 or older. Some states also have laws protecting younger workers.
5. Leave laws
The Uniformed Services Employment and Reemployment Rights Act (USERRA) applies to all employers. Under USERRA, you must allow employees to take leave for military service and reinstate them in their jobs upon their return.
The Family and Medical Leave Act (FMLA) applies to businesses with 50 or more employees. It guarantees up to 12 weeks of unpaid leave to employees to care for a newborn or adopted child or a sick family member. FMLA also provides up to 26 weeks of leave to care for a covered service member.
In 2020, the Families First Coronavirus Response Act (FFCRA) was passed to provide paid sick leave and expanded family medical leave for eligible employees who miss work due to COVID-19.
6. Occupational safety laws
The Occupational Safety and Health Act (OSHA) requires you to provide a safe workplace. The law applies to most employers. Under OSHA, you may have to use certain equipment, train employees, or provide ergonomic aids to protect workers from injuries.
7. Whistleblower laws
The Whistleblower Protection Act protects federal employees from being fired for reporting federal waste, misconduct, or fraud to authorities.
In addition to federal employee laws, OSHA also protects private workers who blow the whistle on unsafe working conditions, including hazards arising from the COVID-19 pandemic.
8. Employee benefit laws
The Employee Retirement Insurance Security Act (ERISA) requires you to manage retirement, health, and other welfare benefit plans responsibly and equitably. ERISA also requires you to provide specific information on these plans to employees.
The Health Insurance Portability and Accountability Act (HIPAA) protects employees from discrimination in health plan enrollment and premium charges. That means your health plan can't deny an employee coverage or charge more based on health factors. It also can't require employees to make lifestyle changes or meet certain wellness criteria to participate in group health plans.
HIPAA also guarantees employees' rights to enroll in health plans based on certain life events, such as marriage and childbirth.
The Affordable Care Act (ACA) provides similar protections, including barring employers from excluding employees from health plans based on preexisting health conditions. The ACA further requires employers with 50 or more employees to offer health insurance to their workers or make an employer shared responsibility payment to the Internal Revenue Service (IRS).
The Consolidated Omnibus Budget Reconciliation Act (COBRA), in addition to winning the top spot in the "Weirdest Name — Best Acronym" category, requires employers with 20 or more employees to offer continued health care coverage to departing employees.
The Mental Health Parity and Addiction Equity Act (MHPAEA) requires employers with 50 or more employees to offer equitable coverage for mental health and addiction in their health plans.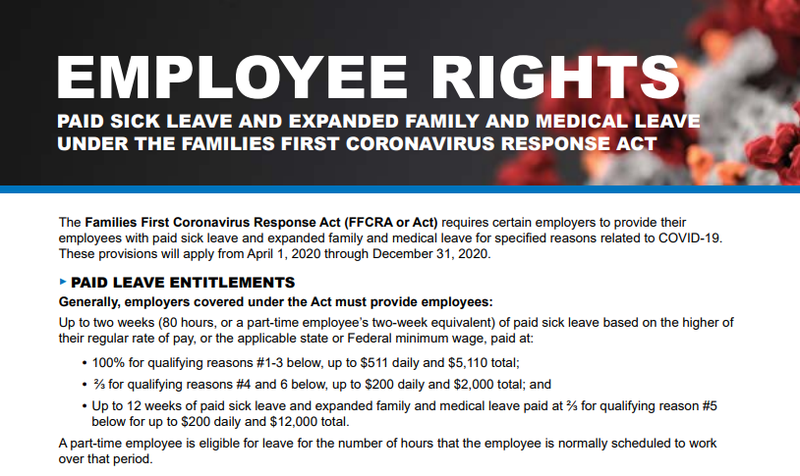 You can get free posters from federal agencies to meet your posting requirements. Image source: Author
9. Labor relations laws
The National Labor Relations Act (NLRA) protects your employees' rights to join or form unions (or decline to join them). It also protects their right to engage in related protected employee acts such as talking with one another about their working conditions. This may include comments about your company made outside of work and on social media.
Accentuate the positive
All of these laws provide a framework for your employee relations. Most will benefit your company even if you haven't reached the size where they apply because they can help you create a fairer workplace. This is especially important as you grow and more of your decisions are delegated to managers and supervisors.
In fact, by embracing the laws and training employees in how they apply at work, you can give your employees guidance for their everyday interactions with one another. And you can provide clear pathways for addressing those inevitable times when conflicts arise.
Beyond posters
In too many workplaces, HR compliance begins and ends with a handful of posters tacked up in the breakroom next to the pizza menus and softball fliers. That's a missed opportunity.
Don't just post the laws and move on to the next task. Use them as tools to fortify your workplace and empower your people. Carve some time out for team training in EEO and workplace safety. Your company will be stronger and better for it.
Continue reading...
See the original article here: https://www.fool.com/the-ascent/small-business/human-resources/articles/federal-employment-laws/
---
About TriMark Legal Funding
TriMark Legal Funding was founded in 2003 and is one of America's top rated lawsuit funding companies. TriMark provides pre settlement funding and post settlement funding, sometimes called 'lawsuit loans', to injured plaintiffs throughout the United States. We offer funding on hundreds of different types of legal claims including personal injury loans, employment litigation funding, work injury accident loans, workers compensation loans, mass tort litigation funding, and multidistrict litigation funding.
You can visit our Sell My Structured Settlement page and we also provide immediate inheritance advance funding for heirs and beneficiaries, as well as attorney funding and law firm financing for legal practices.

Resource | Resource | Resource | Resource | Resource
| | |
| --- | --- |
| Personal Injury Lawsuits | Legal Funding Options |
| | |
Click here to see the original article.